5th year students were treated to two debates on Monday morning – Clann Eanna took on Clann Antoine and then Clann Froinsias took on Clann Padraig.
The first debate was on the motion that 'This house believes that security cameras are a violation of our civil liberties.' Speaking for Eanna were Jake, John and Chloe. All three speakers were well prepared and gave engaging arguments as to why we should not permit the use of these devices. Speaking for Antoine were Seyifunwa, Charlie and Shope. These three speakers were equally as informative and entertaining in their speeches. Both sides made reference to crime statistics, the use of CCTV in schools and towns, and to fictional texts such as '1984'. They made excellent rebuttal points against each other and delivered their speeches with confidence and passion. When the vote was thrown out to the audience, the motion was carried and Clann Eanna were declared the victors.
The second debate was just as lively as Clann Froinsias took on Clann Padraig on the motion that 'This house believes the internet should be dismantled'. Speaking for Froinsias were Daniel, Conor and Immanuel. They were both entertaining and informative with their arguments. Speaking for Padraig were Mark, Nicolas and Cormac. The audience thoroughly enjoyed listening to speeches about gaming, socialising, cyberbullying and study. The vote from the audience saw the motion being defeated and Clann Padraig were victorious.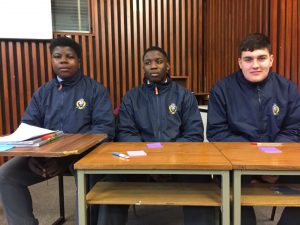 Katelyn did an excellent job chairing both debates and she was ably supported by Nicolas as timekeeper.
It was a very enjoyable morning for both speakers and audience and is sure to be repeated later in the year!!