During the last couple of weeks TY students have been studying a broad range of poetry including works from greats such as Seamus Heaney and TS Eliot. Last week, "After the Titanic" by Derek Mahon was the focus of attention. The poem looks at the tragedy of the Titanic from the point of view of a survivor – Bruce Ismay. He was the managing director of White Star Line the company that owned the Titanic. Mahon's interpretation vividly captures the haunting memories of the broken up ship and describes Ismay's feelings when the investigation into the sinking took place.
After reflecting on the poem, a challenge was put to the TY's. In 20 mins, and in groups of 8 or 9, they had to prepare a rehearsed improvisation of the  inquiry into the sinking of the Titanic centering on Bruce Ismay. In group one, Jack Conway led the courtroom process with great authority while Drew Keeley defended himself in the role of Ismay. Witnesses were called and barristers examined. This improvisation was very convincing indeed.
Another group was led strongly by the prosecuting barrister, Ciaran Mulroy. Gabriel Mayrhofer, as Bruce Ismay did not stand a chance under the tough line of questioning. Despite many objections by counsel for the defence, Sean Landers, Ismay was found guilty of negligent manslaughter.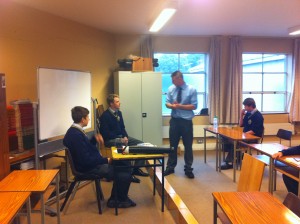 Both groups got very much into the spirit of the hearing and everyone fulfilled their roles and improvised greatly without any written script. This experiment  with rehearsed improvisation is one that will be repeated during the course of the year.