The following list was compiled by Darragh McManus of The Guardian newspaper specially for this time of the year. These are novels that are 'eerie, horrifying or disturbing in unusual and different ways'.
'Manual' by Daren King
Fetishism, psychic dislocation, unhealthy obsession – 'Manual' isn't an easy book to warm to, but it will linger in the mind afterwards. Sometimes gruelling, but worth it if only for the wholly original style: terse, often unrelated sentences, tiny explosions of descriptive power . . . like reading a series of connected haikus.
'The Return of the Player' by Michael Tolkin
Sequel to the novel that inspired the Robert Altman movie, but this is much darker and creepier, in tone and theme, than that relatively playful novel. Fundamentally about death, it's a feaful lament for the end of things,
'Brighton Rock' by Graham Greene
Because Pinkie is one of the most terrifyingly believable sociopaths ever created . . . and the horror that awaits Rosie after the final pages is indescribable.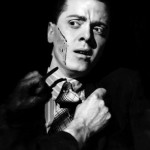 'Shirker' by Chad Taylor
Set in New Zealand, this tale of one man cheating death is one of the best crime novels ever. Beautiful artful prose, a great, twisting noir story, and a seriously spooky atmosphere. You'll feel all sorts of chills running along your spine.
'Castle of Crossed Destinies by Italo Calvino
A tone of strange, spooky reverie permeates this fantasy from the incomparable Calvino. A group of wayfarers meet in the forest and, struck dumb, tell their stories through tarot cards.
'High-Rise' by JG Ballard
It opens with a man roasting an alsation over a burning phonebook, and doesn't relent from there on in. Most of Ballard's incredible body of work is disturbing enough, but 'High-Rise' was the one of the scariest.
'The Body Artist' by Don DeLillo
It's a sort of ghost story – or is it? Reality, delusion and memory blur into one another in DeLillo's short novel about the titular body artist dealing with bereavement.
'Oryx and Crake' by Margaret Atwood
Any one of a number of dystopian novels could have made the cut but Atwood's 'speculative' novel is so unsettling because everything that happens is a possible, and often probable, consequence of what we're doing now.
'The Vanished Man' by Jeffery Deaver
Deaver might not be a literary artist, but he's a very skilled craftsman. 'The Vanished Man' has a deliriously serpentine plot – and a cameleonic villain who gets right under your skin because he can get right under anyone's skin.
'The Shining' by Stephen King
Ghosts, the supernatural, psychic abilities – this novel has all the elements of a gripping gothic novel. A film based on the book was released in 1980, directed by Stanley Kubrick and starring Jack Nicholson.
'American Psycho' by Bret Easton Ellis
This is a psychological thriller and satirical novel set in Manhattan during the Wall Street boom of the late 1980s. The story is told in the first person narrative by the protagonist, serial killer and business man, Patrick Bateman.